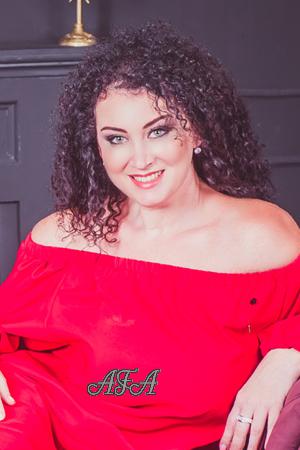 ID: 175793
Maria
Ukraine
City:
Kiev
Age:
40
Zodiac:
Sagittarius
,
Snake
Weight:
176lb, 80kg
Height:
5'11", 180cm
Eye Color:
Green
Hair Color:
Black
Marital Status:
Divorced
Children:
1 - girl, 8
Religion:
Christian (Orthodox)
Smoker:
No
Drinker:
No
Education:
Higher
Company:
Private
Job Title:
Manager
Sports:
Swimming
Hobbies:
Traveling, theater
English:
poor
Languages:
Ukrainian (excellent),Russian (native)
Self Description: I have an active style of life and feel myself comfortable in any conditions. I am easy going person and communicative, I am able to find common language with people. I have my opinion but I am ready to accept points of another people. I am serious and family oriented person and want to meet my love. I stand for love, harmony and understanding in living together. I have friends of all types. Friends describe me as smart, honest and trustworthy. I have a pretty witty humor sometimes. I am calm, balanced, adaptable, kindly, and positive-minded. The most important for me is reliability that you mean and do what you say. I try to treat people always with respect and understanding. I like to analyze before making decisions but once committed I persevere. I am also loyal and hardworking. I am educated, well-mannered, have good morals, and believe family should be treated with the utmost care. I'm very able to love. I can have very deep feelings for a person. Iím romantic! . I love the sound of the waves crashing against the hull, the smell of the ocean air, the gentle rocking of the boat makes for perfect sleep. The stars are amazing at night when there are no city lights to interfere. It is a very romantic setting.
Comments: The main aim of my life is to find my "other half", to have true love, care children born in love and bring them up happy. My desire is to love and to be loved and be a close friend to my husband. I want to share all my problems with my future husband and support him in everything. I want my husband to be proud of me. I want to discover a new world with him, to feel his reliable shoulder close to mine. Thing I look for in a future soulmate/husband is ability to talk with him about everything, no secrets! He must be honest and faithful, and have a good sense of humor. He must like to travel as I don't want to do that alone. I also want to be able to resolve quibbles peacefully by talking and not arguing. I think in a relationship mutual love, confidence, respect, support, sharing all good and bad times together is very important. Everyone must have the same rights and obligations in a partnership. Open communication between husband and wife is one of the most important topics. I dream to build a new and strong family. I look for my second half, my husband, my lover, my best friend and the father of our children. Without family I miss something in my life.